All of Heatseal's heat applied transfers should be applied using a flatbed heat press or fusing press, which should have variable heat, time and pressure controls.
Presses are widely available to suit all budgets, depending upon your requirements. You can find out more about the flatbed heat presses here.
If you already own a flatbed heat press, Heatseal can advise on the right settings for your equipment, and can supply sample transfers for testing. Please get in touch for more information and advise.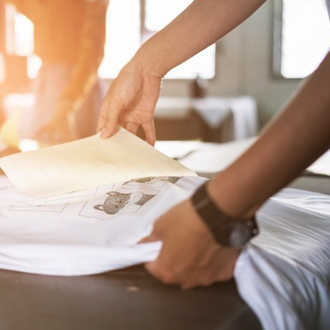 HOW TO APPLY HEAT TRANSFERS
Step 1 – Pre-Press
It is important to always pre-press your material for a few seconds. This will remove any moisture and get the material smooth for application. Remove the paper backer from the transfer.
Step 2 – Fusing
Place your transfer on the material in the required position. For vinyl the backer will be slightly adhesive to help keep your transfer in place. Press/Fuse your transfer as per instructions provided in your package.
Step 3 – Backer Removal
Remove the adhesive backer when and as per the instructions provided.